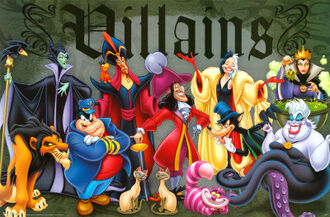 Disney Villains is a Disney franchise featuring the villains from Disney films.
Main Members
Edit
Maleficent
The Evil Queen
Hades
Scar
Ursula
Jafar
Cruella De Vil
Chernabog
Doctor Facilier
The Queen of Hearts
Captain Hook
Major Members
Edit
These villains are popular, but not as much as the main members.
Gaston
Lady Tremaine
Pete (sometimes)
Si and Am
Lucifer
Kaa
Shere Khan
Mr. Smee
Shenzi, Banzai and Ed
Big Bad Wolf
Claude Frollo
Yzma
The King of Hearts
Pain and Panic
Flotsam and Jetsam
Guest Members
Edit
These are considered as some of the best villains, but rarely appeared in merchandises
Mother Gothel
Shan Yu
King Candy
Governor Ratcliffe
Oogie Boogie
Stromboli
Anastasia Tremaine (formerly)
Drizella Tremaine
Madam Mim
Madame Medusa
Prince John
Sir Hiss
Sheriff of Nottingham
Monstro
J. Worthington Foulfellow
Percival C. McLeach
Gideon
Horned King
The Headless Horseman
Ratigan
Pink Elephants
The Ringmaster (formerly)
The Lonesome Ghost
Man
Clayton
Mortimer Mouse
The Coachman
Heffalumps and Woozles
Magica De Spell
Edgar Balthazar
Sa'Luk
Nefir Hasenuf
Abis Mal
Haroud Hazi Bin
Mirage
Randall Boggs
Henry J. Waternoose, III
Mr. Winkie
Sarousch
Forte
Weasels
Lobster Mobster and Da Shrimp
Moray
Zira
Nuka
Ad blocker interference detected!
Wikia is a free-to-use site that makes money from advertising. We have a modified experience for viewers using ad blockers

Wikia is not accessible if you've made further modifications. Remove the custom ad blocker rule(s) and the page will load as expected.