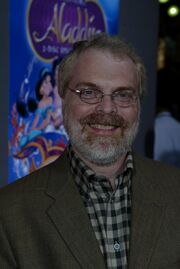 Life Facts and Early Disney Career
Edit
Ron Clements was born on April 25, 1953 and is currently 58 years old. Clements began his Disney career in DTDP, short for Disney's Talent Development Program for job training and later served as the apprentice of Frank Thomas, the supervising animator of Lady and the Tramp from 1955 and The Aristocats from 1970.
Role as Animator
Edit
The first time that Clements ever put his talents as an animator into the real world was when he helped with character animation in 1977 The Rescuers and 1977 Pete's Dragon. Because of his success as an animator, he got promoted to supervising animator when he led the animation for 1981 The Fox and the Hound. After that movie was finished, he supervised the animation of 1985 The Black Cauldron where he met John Musker who worked for and befriended him in the process of animating the 25th Disney Animated Film under his tutelage and orders.
Role as Director with John Musker
Edit
When The Black Cauldron was finished with production and awaiting its release Frank Wells, who was Walt Disney Company President from 1984 to 1994, decided to promote Clements and Musker to directors and allow their directorial debuts to be in the making of 1986 The Great Mouse Detective. The two of them were so successful that they were allowed to co-direct and co-write 1989 The Little Mermaid. They returned for the co-direction of 1992 Aladdin and later 1997 Hercules. They continued working as co-directors on 2002 Treasure Planet and an even more successful 2009 The Princess and the Frog. In fact, that movie was credited by NBC News as from the directors of The Little Mermaid and Aladdin whom are Clements and Musker.