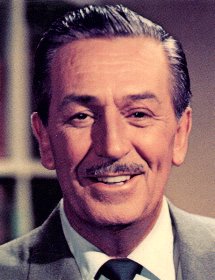 Lifespan and Achievements
Edit
As many Disney fans are aware, Walter Elias Disney was the founder of Walt Disney Productions later named Walt Disney Pictures. An unknown fact is that he was born on December 5, 1905 and died on Decemder 15, 1966 at age 61. More importantly, he had people sever and freeze his head when he died so that everyone who worked at the Walt Disney Company would learn about him if they were new and remember him by if they were part of his original staff. In 1929, he created the short movie, Steamboat Willie and therefore, Mickey Mouse, the Walt Disney mascot was born. Despite hard times in the Great Depression, Disney managed to produce Snow White and the Seven Dwarfs and release it in theaters on December 28, 1937. This achievement not only started the Disney Animation Canon but also began the rise of animated feature-length films worldwide! In World War II, Disney's men continued to make popular films like Dumbo and Bambi until most of the men went to war. Until Fun and Fancy Free, the next three films, Saludos Amigos, The Three Callebros and Make Mine Music has some government propoganda in them due to the war. As of Cinderella in 1950, Disney made more successful movies like Alice in Wonderland in 1951 and Peter Pan in 1953. In 1955, Disney not only released his latest animated production, Lady and the Tramp but also opened Disneyland in Anaheim California and Walt Disney World Resort in Orlando Florida. His last animated productions were Sleeping Beauty from 1959, 101 Dalmatians from 1961, The Sword in the Stone from 1963 and The Jungle Book from 1967. While Walt died before seeing the release of The Jungle Book, it was his final animated production.
The Continuity of Walt Disney's Company
Edit
Even after Walt Disney died, nine of his orignial men still worked on the first four movies he could not produce, The Aristocats from 1970, Robinhood from 1973, The Many Adeventures of Winnie The Pooh from 1977 and The Rescuers from later in the same year. Walt Disney Pictures went into many slumps and successes after The Rescuers. In the 1980s, The Fox and the Hound, The Great Mouse Detective and Oliver and Company were successful while The Black Cauldron proved to be a failure. However, there wre 10 movies after Oliver and Company which lit the torch of Disney with the first one, The Little Mermaid starting an 11-year era known as the Disney Renaissance. This era continued with The Rescuers Down Under, Beauty and the Beast, Aladdin, The Lion King, Pocahontas, The Hunchback of Notre Dame, Hercules and Mulan. It ended with the release of Tarzan and ever since, there have been very few successes until The Princess and the Frog and Tangled. Those successes came in the forms of Lilo and Stitch and Brother Bear.